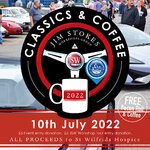 Finally, after the events the last two years, we are happy to be able to provide an update on our Classics & Coffee charity open day. Not wishing to clash with too many significant events we have moved from our provisional date to Sunday 10th July. As ever, free bacon rolls and coffee will be available and tours of the JSW workshop will be offered for an additional £5 donation. ALL PROCEEDS will be going to

St Wilfrid's Hospice

, a truly fantastic organisation.