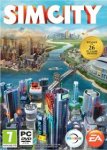 Years and years ago I used to play SimCity, it was around the time when the Pentium P75 or the DX4/100 was out, so this was a long long time ago. Around 14 years... lol., just looked it up it was 1994 that processor came out. God don't the years fly past?!?.
Anyway I was thoroughly addicted to this game, it wasn't really multiplayer back then like this new one.
More info on the game:-
SimCity (New Sim City) - PC Games - PC (Simulation)
, this is actually where I got it from. Its a good price, and I have gotten my PS3 games from here before, good prices and hassle free.
So what do you have to do?
Create the city you desire and make the choices that shape your city and power the Sims within it. Every decision, big or small, has real consequences. Invest in heavy industry and your economy will soar?but at the expense of your Sims? health as pollution spreads. Implement green technology and improve your Sims? lives while risking higher taxes and unemployment. Team up with your friends to solve global challenges: launch a space shuttle, reduce carbon emissions, or build magnificent wonders. Compete on global and regional leaderboards to be the richest, the dirtiest, the happiest or the best place to visit!
SimCity (New Sim City) - Features
Constructible Worlds ?Creative and customizable world that offers unique gameplay benefits, all with a fun tactile interface.
Sims Matter?The Sims in your city speak to you directly and it?s up to you to respond to their needs. Will you listen and be the toast of the town? Or abuse your power for fame and fortune?
Specialize in What You Love?Mold your city as a casino resort, manufacturing hub, educational enclave, and more, and then watch as a unique look and feel spread throughout your city.
Multiplayer? Build a region with friends for the first time! Collaborate or compete in regional and global challenges and make decisions that impact the greater SimCity? World.
GlassBox Engine?SimCity? introduces GlassBox, the revolutionary simulation technology that gives you the power to impact individual Sims lives, manage city level simulation, and balance multiple city simulations at once.
There is a chap who has recorded playing the game so you can see how it all works. He actually has 10 videos, seems to record everything he plays, and has a live stream, and saves it to you tube.
[video=youtube;0Yiy2jZYJmo]http://www.youtube.com/watch?v=0Yiy2jZYJmo[/video]