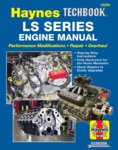 Haynes is well-known in the automotive industry for its comprehensive vehicle teardowns in their manuals. And while we already have textbooks on the the fourth-generation F-Body Camaros and Trans-Ams, we have never had a dedicated manual that focuses solely on the LS-based motor.
Until now.
The LS Series Engine Manual Haynes Techbook covers everything you need to know about Chevrolet's venerable small-block engine. It has info on maintenance, basic repairs, bottom-end modding, supercharging, you name it. The Camaro/Firebird tech manuals cover models from 1993 to 2002, and while that also includes the 5.7-liter LS1 of that time period, it is essentially limited to that particular engine model. This new book focuses on the entire LS family, so you have a plethora of options.
You may already feel super comfortable tinkering on your LS engine, however a Haynes or Chilton repair manual comes in total clutch when you are getting into a super-intricate street or strip build. Let's say for instance you plan on capturing all the air with that brand new air cold air intake and blower you bought from the shop. Sounds great, but you aren't exactly familiar with AFR (air-to-fuel ratio) and tuning.
Can be purchased direct from Haynes:-
https://haynes.com/en-us/ls-series-engine-manual-haynes-techbook