Well on the T/A I had a leak the other day, luckily I was in the garage and heard it before starting the car. Fuel pressure runs at 58psi, so if there is a leak then ou know about it.
That day I just tightened up the jubilee clips. Stainless steel ones with a 12mm wide band. The fuel pipe is 20mm diameter, and these go down to 15mm.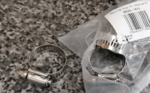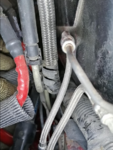 The braided fuel line with 2 jubilee clips clamped onto the stock metal fuel pipe.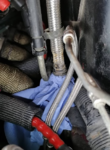 Removed the clamps but the metal pipe has a mushroom end so couldnt remove the hose.
Plan B, remove the other end of the pipe and slide the clamps on. This worked well. The old one could open up enough to pop off without sliding over the top.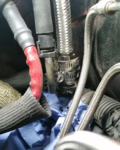 New clamps on, mounted 90 degrees from each others and butted up next to each other, so effitively giving me a 24mm clamping area. I will keep an eye on this. As I couldn't inspect the inside of the pipe, it shound't have deteriorated, but it is probably 10 years old now.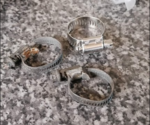 Old clamps next to the new.
Quick easy fix.