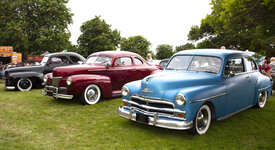 Beaulieu Hot Rod & Custom Show 2021
AMAZING VEHICLES
Hot Rods, Customs, American Muscle, Chops & Bobbers will be among the hundreds of vehicles on display.
You can expect a stunning display of American motors from our local club sponsors,
Solent Renegades
. From classic Camaros to modern Mustangs, can you spot your dream car?
If you own a Hot Rod, Custom, American vehicle, Custom Bike or pre-1980 Classic and want to display it at our Drive-In Day, more details will be announced on how to do so soon.
More details to follow as they are announced. There is hope this year that shows may happen. Fingers crossed.
Meeting at Rownhams to leave at 8.00am.
Last edited: