Are you working on a classic, vintage or veteran vehicle?
Millers Oils Classic
are one of the few companies to offer a range of engine oils, transmission oil and fuel treatments developed specifically for
classic cars
&
motorcycles
.
Opie Oils
are pleased to announce that we are currently offering 15% off
ALL
Millers Oils Classic
. To take advantage of this range encompassing offer, please use the code:
CLASSIC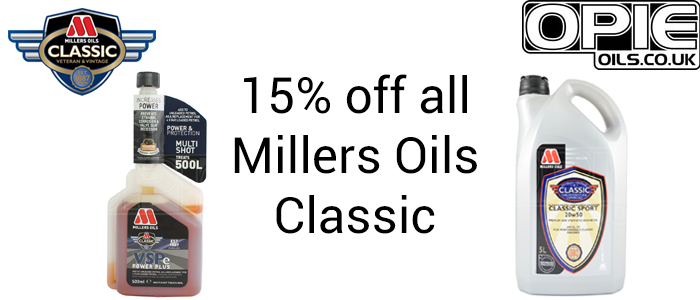 To view all Millers Oils Classic Engine Oils please click
HERE
In need of some Classic Gear Oil? Follow the link provided to see
Millers Oils Classic Gear Oil
To see the full range of Millers Oils Classic Greases please click
HERE
In need of some classic Additives? Millers Oils Classic have some popular and well know fuel additives. To see them all please click
HERE
That's about all from us for now, if there is anything else you need, simply message on here, give us a call on 01209 202 944 Monday to Friday 8:30-5:30 or drop us an email to
sales@opieoils.co.uk
and we'll be happy to help!
- Oilman