Started the quick job of swapping out the alernator last night. So easy to get to standing underneath it,.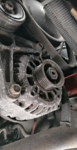 Couple of long bolts, and it just comes out.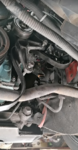 Also the 13mm nut on the back that hold on the power cable. There is also a 4 pin connector with one wire, I guess this is a sence wire. The ground comes through the engine block, and also a braised strap to the chassis.
New one ready to pop in.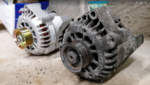 I'll be renewing the power cables too.
Battery is on charge, so that will be nice and fresh. I should get some time on this tonight. No rush as want to run in the new cables and place in a good position. Ideally I want this task of alternator swapping and power cables finished tonight. Incase I need a car tomorrow, as Sarah has borrowed the Kia as the Volvo is in the garage.