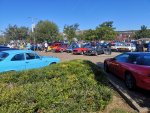 The show is held in the car park in front of the Cinema at Port Solent. It has been getting bigger each month. A great venue, laid back atmosphere, and a good variety of cars & trucks. Limits are 20 years or older for Classics, or any age American vehicle.
The event is twice a month. the 2nd Sunday and the last Sunday of the month. The facebook page for the events are:-
https://www.facebook.com/groups/portsolentcarmeet/
Also and extra date on boxing Day.
Last edited: