Pontiac Catalina pillarless auto with Pontiac 400 6.6 1972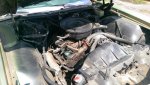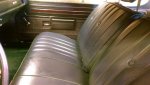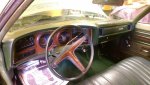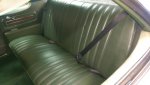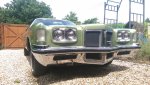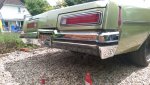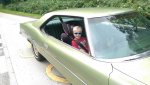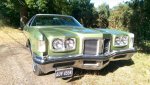 Description.
This is a very distinctive and rare in the Uk 1972 Pontiac Catalina. In fact I have not seen any other early 70s Catalina's here. People wave, smile and everywhere you go someone offers to buy it or just says it's amazing. It's a show stopper.
Its freshly imported from a dry state, it has all duties paid, with proof. Part of that proof is that it Is Uk registered and MOT'd. It is also taxed and is tax free! So it's a normal British car in those respects.
It's had a legal and correct indictor conversion so the right lights all flash the right colours to MOT standard. Even the number plates are Uk legal (can be restored to USA spec, not sure why you would want to). The car even has working hazard warning lights, which have never been used!
Whilst it is emissions exempt it runs 2% CO2, which is amazing for a car of its age. The USA charcoal canister and emissions rubbish has been removed (but will be supplied with the car), all the fuel lines have been replaced with modern ethanol safe fuel hose and an extra filter.
The Carb is rebuilt and runs perfectly. It's the original year stamped 2 barrel on the original Pontiac manifold. I do have a 4 barrel and a Edelbrock which have never been fitted but could be supplied with the car if you did want to go faster! (Valued at over £500)
It also has modern inertia real seatbelts fitted to the back seats as I wanted my kids to be safe, they can be easily removed (I can remove them if you like). I also have the original 6 lap belts to go with the car if the next owner wants. Yes this can seat 6 in utter comfort!
Its got the Pontiac 400 (6.6) V8 in perfect running order, it starts first turn and has new plugs, leads, points etc. It is utterly bullet proof and can drive in modern traffic and even queue on motorways and town traffic with no trouble. It leaks NO oil and no coolant, no power steering fluid or brake fluid. It really is perfect. It sounds amazing running through the original style exhaust and single box silencer. It is not overly loud. You could swap to a cherry bomb if you want to make it louder.
The 3 on tree, automatic transmission is faultless (does not leak) and shifts perfectly with a scarily quick kick down should you decide to go fast.
The brake fluid is fresh and the car has a new wheel cylinder at the rear and new front pads. I fitted these after the MOT showed a slight imbalance. They did not need to be done but like I said I wanted my kids to be safe.
The chrome work is mint immaculate – for a 42 year old car. It's all original and apart from a few minor age related marks. This is not cheap Chinese single plate this is original Detroit triple plate with a deep shine.
Wheels are the original steelies with correct and rare Pontiac Motor Division chrome hub caps. The tyres are white raised letter American tyres. They look amazing. They have loads of tread and are not cracked.
Body work. The body is an amazing shiny green. It's not perfect, but as you can see from the photos it's amazing. There is no structural rust, in fact the whole car is rust free…. Apart from a few bubbles behind the rear arches. This is apparently very common and could easily be fixed. Could easily be left for a few years, or could be tided up now. – Not an MOT concern obviously.
Interior, the interior has a modern radio and speakers in the rear parcel shelf. Both could be removed if required. But sometimes having tunes on is nice when cruising pillaless.
This car is about as close as an original survivor as you can get with getting in to museum pieces, silly money and a car you can drive. It has a believed 80,000 original miles on the clock, the engine and box look like they have never been out. It is just nice all over. The original Pontiac build sheet from the factory is still under the front seat, it needs carefully removing, to add to the cars history file… It even has an original style USA battery.
Opportunities for a new owner.
None are show stoppers they are just choices the new owner can guide and decide.
The front drivers seat is ripped, I have the correct material to fix this and the thread needed. I can either have it repaired or you can have someone do it. Either original style or custom.
The car from the factory had a white vinyl roof cover. I have a brand new original style one expensively imported from the states, I also have the correct glue and chrome trims (again expensively imported). So it will be your choice, have the roof as factory original or spray and fill it to match the body (which is called clean look).
This Catalina was fitted with the extra option of air conditioning. The whole system is there other than the old style compressor. As its pillarless I always cruse with the windows fully open and have never wanted air con. If you did want to get it working it will need a new compressor and a re-gass. Even if the old compressor was there, you would need a new one (for the new coolant). However I really would not bother!
Literally just found out (dark evenings and all that...) the interior dials don't always light up. The washers squirts very weak, but passed MOT.
Why am I selling my pride and joy? –The answer is simple- head space. I can't cope with all my projects. I have a 1967 S-type Jaguar, a 1971 Daimler Hearse (also now for sale) a 1978 Pontiac Firebird Trans am Bandit edition… On top of that I have 2 young children and other interests. I just can't do it all.
Asking price is £7995, but I will minus off the work that needs (well it's not essential) doing and if you wave wads of cash at me I may well part with it for less. However I am not open to very low offers over email I will just keep storing it and sell it in spring when prices go up again! Open to offers.
Car is located in Hampshire near Basingstoke / Berkshire near Reading.
Don't contact me if…
If you are an African prince with $600,000 you wish to deposit in my bank account for the car to get your money out of the country, I have seen the scams just don't bother.
If you have a car to swap or trade, no thankyou. Cash only. I have too many cars and projects. No swap or trade
Cash only. No paypal etc.
If you are expecting this car to be a concourse show winner then it's not for you. It is a really nice show car, but it's not concourse and is over 40 years old.
If you are asking questions about MPG, then I am not sure a 1970's American 6.6 litre V8 is the car for you… - expect teens…
Do contact me if…
You want a reliable first American car.
You want a car you can run as it, OR work on…
You want something that turns heads and is a show stopper
You want something that a dealer would retail for £12,995
Your money in the bank is earning no interest, invest enjoy and gain some return on your money!
You want a car that is scarily fast and has very cheap insurance, free road tax and cheap and easy servicing.
PS, the car now has proper American number plates. It has a temp one in some of the pictures!