Hi ya all, Just whipped up something to give out at Wheels day and our show to promote the Southsea Cruise. It will be A6 in size on card.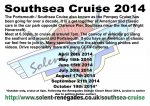 I've rechecked the dates, and all are on the 3rd Sunday. Hoping to get these sent to the printers today. If anyone can't spot anything major wrong then i will leave as is. I usually miss the obvious. Website address there for extra details. Has meeting place and times, and warning about we are being watched. So I think its all there. I cant spot any spelling mistakes but I'm not the best person to check spelling or grammar.
So what do ya all think?