My auntie has a fairly old laptop, about 4 or 5 years old, running Windows XP. It does take a long time to boot up. Its had various virus checkers installed over the years and old ones uninstalled, currently running Avast free anti virus.
Over the years Windows slows down, its not just XP, you will find it in Window 7 / Vista. A complete reinstall of Windows and then all the applications will get it faster again, but will be time consuming especially finding all the disks that you put in that safe place.
Often if you ask the person what they use the computer for then you find its not much at all. My Auntie uses the laptop solely to browse the internet or to go on facebook.
So really an internet only laptop would be ideal. Well did you know Google make something called a
Chromebook
, boots up in seconds, comes with its own antivirus. You can edit Word and Excel type documents and they are stored with google, so if you ever loose your Chromebook you havn't lost your files. It has the Google Chrome internet browser installed for you to browse the web. Its certainly ideal for someone who only browses the internet.
I've not tried one of these in person but more info is here:-
Samsung Chromebook
for ?299 it would be ideal. Its on her list of things to buy.
One of the main problems with laptops/computers is Microsoft Windows itself. Well this dosn't have windows.
Further details......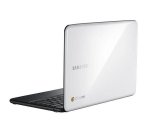 Take the Internet with you with the Samsung Series 5 Chromebook, the lightweight way to access websites, apps and your documents. With a long battery life, connections such as USB ports and an inbuilt keyboard and trackpad, there are a whole range of possibilities.

Booting up in under 10 seconds, the Samsung Series 5 Chromebook gets going quickly, and runs websites swiftly and smoothly, letting you browse your favourite pages at leisure. You can be sure your work stays safe with the cloud; your documents are stored on the cloud, so even if you lose your Series 5 Chromebook, your work remains safely stored. As well as this, there are masses of apps, from work tools to games to photo editing, for you to choose from. Update reminders are a thing of the past as the Series 5 Chromebook automatically updates itself, constantly improving itself.
Connecting to the Internet is easy with the Samsung Series 5 Chromebook, which is equipped with dual-band WiFi.

For more apps for your Samsung Series 5 Chromebook you can visit the Chrome Web Store, where you'll have access to a whole range of apps. It's easy to share your Series 5 Chromebook with friends and family; each user can log in and keep their private data private, so you can be sure that all of your personal details are secure.

Don't let the Internet leave you behind; keep it with you with the Samsung Series 5 Chromebook.
| | |
| --- | --- |
| Processor | Intel? ATOM™ Processor N570 (1.66GHz, 667MHz, 2 x 512KB) |
| Operating System | Chrome OS |
| RAM | 2GB |
| Screen type | LCD |
| Screen resolution | 1280 x 800 |
| Screen size | 12.1" |
| Screen features | 300nit, Non-Gloss |
| Hard drive | 16 GB (SSD) |
| Memory card reader | 1 x SODIMM |
| USB | 3 x USB 2.0 |
| WiFi | Yes |
| Video interface | VGA |
| TV output | VGA |
| Sound | HD (High Definition) Audio, SRS Premium Sound Effect, Mic Noise Suppression, 3 W Stereo Speaker (1.5 W x 2) |
| Webcam | Yes |
| Keyboard & Mouse | 74/75 Key keyboard, Touch Pad (Scroll Scope, Flat Type) |
| Battery | 6 Cell |
| Additional features | Headphone-out, Mic-in, Internal Mic, 4-in-1 (SD, SDHC, SDXC, MMC) |
| Accessories included | AC Adapter |
| Size | 294.2 x 219.5 x 19.9 ~ 20mm (11.5" x 8.6" x 0.78" ~ 0.78") |
| Weight | 1.3 Kg (2.86 lbs) |