Driving on a track is not something most of us do too regularly. But as enthusiasts, it's something we all fancy trying at some stage, especially given the increasing numbers of vehicles on our roads, and the unceasing expansion of the speed/safety camera networks.
But how do you approach your first-ever foray into the world of track days? And, even if you're a seasoned pro, is there anything new you can learn before your next one?
You never stop learning in life, they say, and there are always new techniques you can think about and learn from. If you're a nervous first-timer, fear not. Driving on a track can be about as good as it gets on four wheels, just as long as you stick to a few golden rules.
These are: make sure your car is well and truly up for its day on track before you set off. So check the tyres, brakes and lights; turn up with a full tank of fuel, because on a track you'll burn through it faster than you'd ever thought possible; and make sure there's nothing in the boot or cabin that isn't needed when you're out there on the circuit. The last thing you want during your first ever lap of Brands Hatch is to hear the toolbox you forgot to leave in the garage smashing itself and your boot to pieces.
Alternatively, you can hire a track-day car, or just go to a circuit day where the organisers provide the vehicles for you, in which case most of the hard work on the cars will be done on your behalf. The former is the most expensive way to go, whereas with the latter you'll never be fully let loose in the car, so you won't experience the full joy of driving round a track all by yourself without having to follow an instructor. It'll be fun if you're a genuine first-timer, but you won't get the same thrill as you would if taking your own car.
Start slowly, gradually get quicker​
Whichever way you approach it, driving on a track can be terrifying until you gain a bit of confidence, and become more familiar with the circuit and the way a car behaves on it. It's then that the purest form of driving enjoyment will either reveal itself in all its glory and you'll be hooked, or you'll leave the track grinning, but feeling like you've scared yourself half to death. In which case, fair enough, at least you tried.
The key things to remember when driving on a track are: stick rigidly to the rules of the day, especially the ones about overtaking. Don't try and break the lap record on either your first or last lap, or any of the other laps in between. Start slowly and gradually get quicker throughout the day. Take your time to work out the nuances of the track, having ideally watched an on-board video of the circuit on YouTube. Relax, and enjoy yourself without getting too carried away; you'll get much more out of your time on track if you leave with a smile on your face rather than a befuddled frown.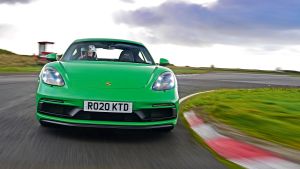 Track driving tips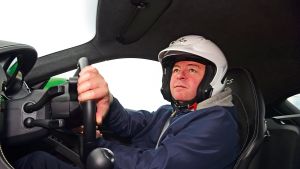 Track driving tips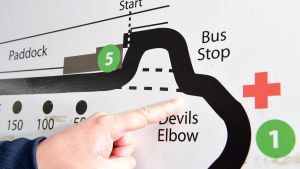 Track driving tips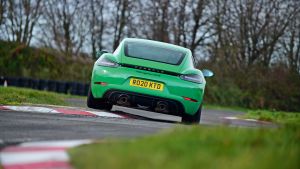 Track driving tips Cayman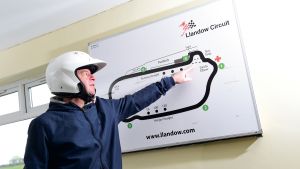 Track driving tips circuit map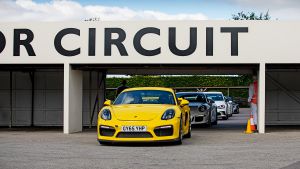 Track driving tips
Most of all, really concentrate on what you are trying to do in the car. Don't worry too much about what other people are up to, but don't switch off from them completely because you'll almost certainly get red-flagged, meaning you'll be told to leave the track and be given a stern talking to by officials.
Pick nice, early braking points into all the corners to begin with, then trim a couple of metres off those points each lap as the fear subsides and your confidence grows – up to a point where you've still got a safety buffer of several metres into each corner. Your brakes will probably start to pass their best after just a few flying laps, though they'll come back again if you let them cool down properly between stints. So rather than staying out for a 15-lap stint, do five or six laps and think about where you're getting it right and wrong while you have a cup of coffee.
When you're back out on track, get on the power as early as you can towards the exit of each corner, but not so early that you have to back off because you're running out of room at the exit. Use the brakes and throttle smoothly but aggressively; smoothness is the holy grail on a track, and applies to every single aspect of your driving. So turn into corners with authority, but be calm and be gentle with your inputs. Try to pick visual markers to hit on each and every lap for your braking point, your turn-in point, your apex point and your exit point, where you should already be on full throttle.
Get these four fairly simple things clear in your head and get better at nailing them consistently, and it really does then become a case of joining the dots, while also keeping an eye in the mirror for the bloke on a qualifier in the
GT-R
.
Also, change gear manually if your car is an automatic, because you'll have much more control over your trajectory, especially under braking. If you're driving a manual, make sure those gearchanges are quick but smooth.
Finally, keep an eye on your fuel level throughout the day. The number of people who run out of petrol on their way home after a track day, well, let's just say we all do it. Once…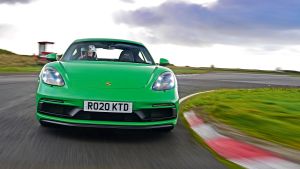 Track driving tips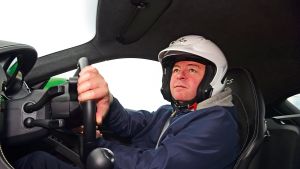 Track driving tips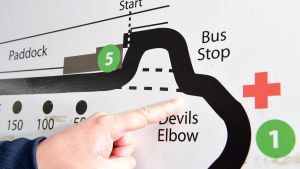 Track driving tips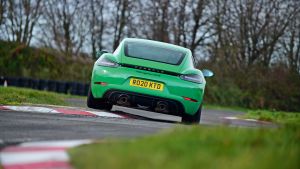 Track driving tips Cayman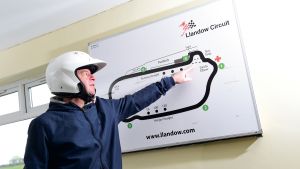 Track driving tips circuit map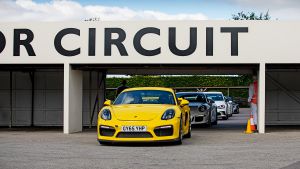 Track driving tips
Steve's top tip​
Do your homework by watching laps of a track on YouTube before you go. Pay attention to the briefing at the circuit, and then build it up gradually once you actually get out on the track
Have a go - our five top track day events​
evo track days
Quadruple Supercar Thrill
With hot ride, Goodwood, £335 for three hours per person. Contact: 0345 640 8000, buyagift.co.uk
Formula 1 track days
Caterham Track Days
Various tracks, from £150. Contact: Want2Race? 01332 470057, want2race.co.uk
Introduction to Drifting
£200 Track Day voucher
Drive your own car, various tracks, £200 per person. Contact: 01376 809001, trackdays.co.uk
Now take a look at our top 10 best track cars...
Continue reading...