Ford
will reboot the
Mondeo
in 2022 with the launch of the much rumoured Ford Mondeo Evos. The move represents a new lease of life for the popular Mondeo name, which will be applied to a rakish looking new
crossover
SUV - a response to the dwindling customer demand for traditional family saloons.
Following sightings of early prototypes on US roads earlier in the year, the newcomer has now been spied undergoing an important aspect of its development programme. The Mondeo Evos has been caught winter testing, and while our old on-road shots of the next Mondeo are a better showcase of its design, these new images give a clearer sense of the new car's generous ground clearance.
Riding tall in the snow, the Ford Mondeo Evos test mule was sighted in the States once again, but that should be no surprise - the new SUV-inspired Mondeo will be a global model for Ford. It's expected to land on the US market badged as the next-generation Ford Fusion.
Other spy shots show that Ford isn't the only car company developing an SUV-styled reboot of a famous badge. A new, tall riding Citroen estate has also been caught on camera by our spies, which could be a revival of the C6 flagship and, together with the Mondeo, part of an interesting trend.
New 2022 Ford Mondeo Evos: the case for an SUV rethink
The European Mondeo, unveiled back in 1992, was one of the cars that helped transform Ford into the commercial success that it is today. It consolidated a range of bit-part global model lines, was packed with kit, and was one of the first modern Fords that was truly great to drive. And now, almost 30 years on from its introduction, Ford looks set to apply the same extensive overhaul to the Mondeo's replacement.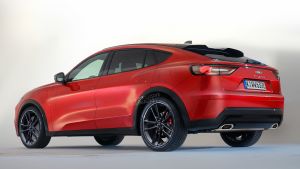 Ford Mondeo - rear (watermarked) Larson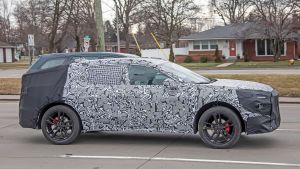 Ford Mondeo - spyshot 5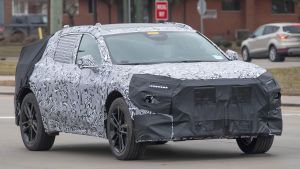 Ford Mondeo - spyshot 1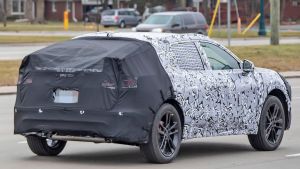 Ford Mondeo - spyshot 9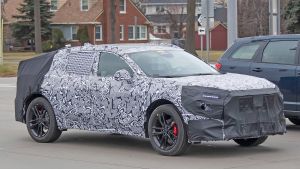 Ford Mondeo - spyshot 3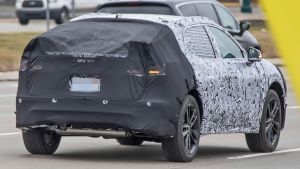 Ford Mondeo - spyshot 10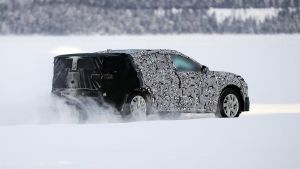 Ford Mondeo Evos spy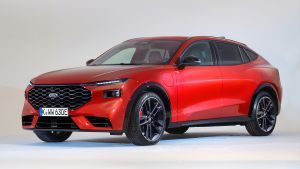 Ford Mondeo - front (watermarked) Larson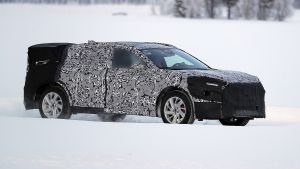 Ford Mondeo Evos spy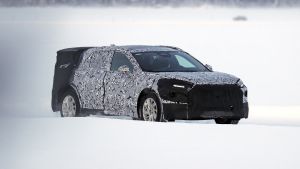 Ford Mondeo Evos spy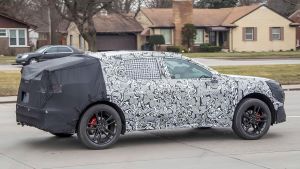 Ford Mondeo - spyshot 6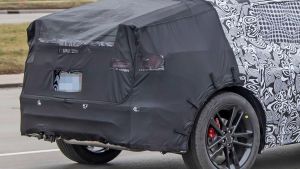 Ford Mondeo - spyshot 8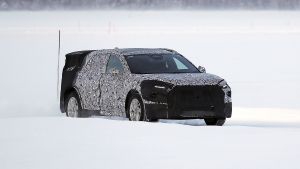 Ford Mondeo Evos spy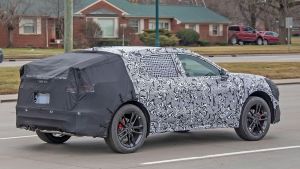 Ford Mondeo - spyshot 7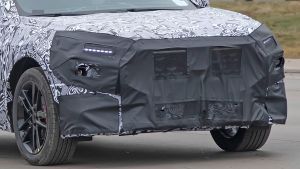 Ford Mondeo - spyshot 2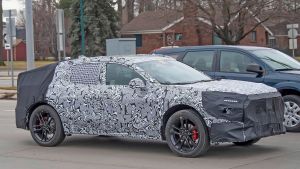 Ford Mondeo - spyshot 4
Sales of traditional saloons, as well as
MPVs
, have nosedived in the past 20 years as buyers flock to more modern and stylish crossovers and
SUVs
. At its peak, Ford of Britain shifted in excess of 86,000 Mondeos in 2001, accounting for more than 21 per cent of its total sales volumes. However, since then, the numbers sold have declined at an alarming rate as crossovers and SUVs began to find favour; by comparison, only 2,400 Mondeos were bought in the UK last year – a meagre 1.6 per cent of Ford's sales.
Bosses at the firm have surmised that a radical rethink is necessary, however the replacement for the Mondeo will not only have to fill that gap left by the long-standing hatch or estate, but also cater to those buyers who may have considered a
Ford B-Max
or
C-Max
, which have been phased out of production. Question marks also hang over the future of the
S-Max
and
Galaxy
.
Design and interior
That's just one of the reasons why the Mondeo will morph from its traditional shapes into a higher-riding crossover, as seen in the latest spy shots. It's a bodystyle which has become the choice for family car buyers, but also one that offers practicality benefits over a hatch or estate. Ford's recent biggest sales successes have been the
Puma
and
Kuga
, both of which are SUVs.
Our exclusive images give you an idea of how the Mondeo's new bodystyle will be matched with a completely fresh look. Slender LED daytime running lights can be picked out beneath the prototype's cladding, with small main headlamp units sitting either side of a wide hexagonal grille.
The crossover's more svelte, sloping roofline, which tapers away towards the rear of the newcomer, can also be quite clearly made out in our spy photographs.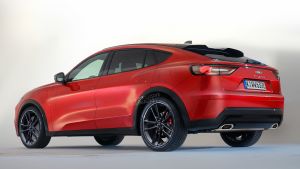 Ford Mondeo - rear (watermarked) Larson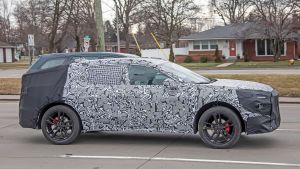 Ford Mondeo - spyshot 5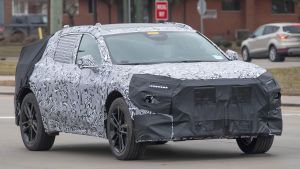 Ford Mondeo - spyshot 1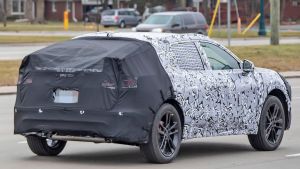 Ford Mondeo - spyshot 9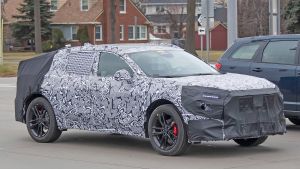 Ford Mondeo - spyshot 3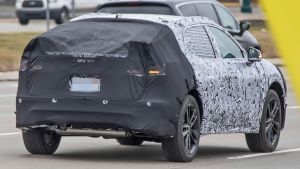 Ford Mondeo - spyshot 10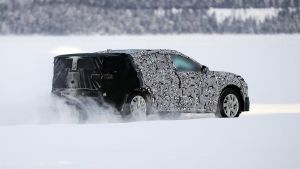 Ford Mondeo Evos spy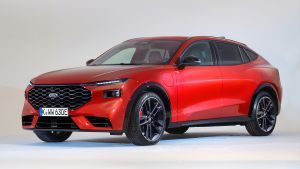 Ford Mondeo - front (watermarked) Larson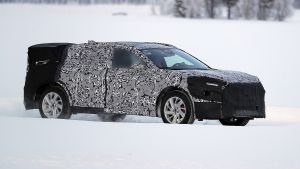 Ford Mondeo Evos spy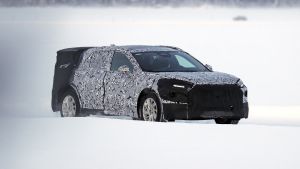 Ford Mondeo Evos spy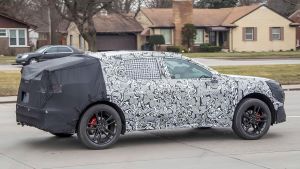 Ford Mondeo - spyshot 6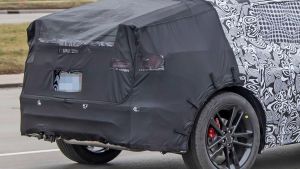 Ford Mondeo - spyshot 8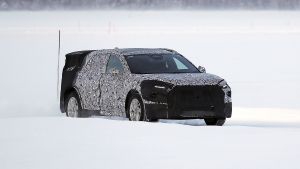 Ford Mondeo Evos spy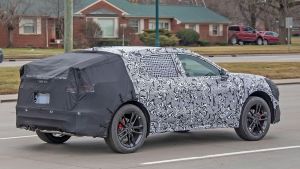 Ford Mondeo - spyshot 7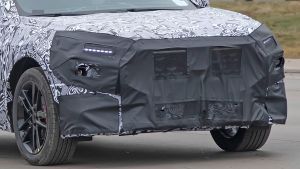 Ford Mondeo - spyshot 2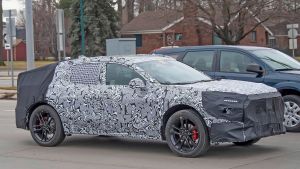 Ford Mondeo - spyshot 4
Although there are no shots of the interior, Auto Express understands the cabin will also be subject to an equally thorough update, with a bank of digital displays sitting on top of the dash, stretching from one side of the cabin to the other.
This radical overhaul is one of the reasons why Ford could also choose to adapt the name of the newcomer to Mondeo Evos, a name that the company successfully trademarked last year. The brand revealed a concept car called the Ford Evos back in 2011, which previewed a sleek coupé that bears a resemblance to the profile of the prototypes currently undergoing testing.
New 2022 Ford Mondeo Evos: Platform and powertrains
Mechanical details on the new Mondeo replacement are being kept under wraps but one thing is certain: the model won't be
fully electric
, at least not initially. An exhaust system can be picked out on some of the rear shots of the prototypes, confirming that Ford will forge ahead with
hybrid
and
plug-in hybrid
technology first.
The Mondeo should sit on the same C2 platform as the Focus and Kuga, because it has been engineered with the flexibility to support a range of model sizes and bodystyles, including crossovers. Crucially, that architecture can also accommodate a full suite of hybrid powertrains, ranging from 48-volt mild-hybrid to plug-in hybrid power. It's almost certain that the Mondeo will be offered with a completely electrified petrol engine range, as diesel continues to be phased out of larger cars.
The system is expected to be carried over from the Kuga, comprising a 2.5-litre four-cylinder engine and an electric motor that's good for a claimed 31 miles on electric power. That figure is likely to be greater in the Mondeo because further developments in battery technology could allow Ford to eke out more range, while the larger footprint of the Mondeo will enable a larger, more power-dense battery to be fitted.
It's possible Ford could adapt its C2 architecture to support a fully electric powertrain, however the firm's approach to EVs looks to be model-specific. The new Mustang Mach-e is based on a dedicated EV platform, and the company has also confirmed that it will develop an electric vehicle based on the
VW
Group's MEB platform used beneath the
ID.3
hatchback.
Ford is betting big on electrified and electric models, and is investing more than $11billion (£8bn) to electrify its products. By the end of 2022, the brand is projecting that it will have sold more than a million electrified vehicles.
Ford Mondeo: timeline​
Ford Mondeo Mk1 (1993-1996)​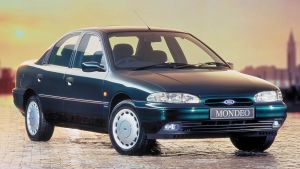 Revealed for the first time at the end of 1992, but going on sale at the beginning of 1993, the Mondeo was a replacement for the Sierra. Four-door saloon, five-door hatchback and estate models were produced, and all versions bound for the European market were built at Ford's plant in Genk, Belgium.
Ford Mondeo Mk2 (1997-2000)​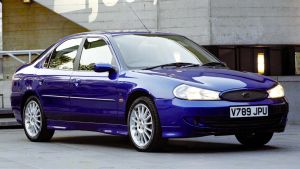 Although technically a facelift of the first-generation Mondeo, this particular version is generally regarded as the Mk2. It largely featured all of the same running gear and components as the Mk1, but its redesign prompted the majority of people to consider it as a whole new model.
Ford Mondeo Mk3 (2001-2007)​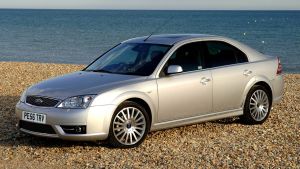 The turn of the millennium is when Mondeo sales peaked in the UK; Ford sold more than 86,000 examples in 2001, up from 69,000 the previous year. But, sales gradually began to fall and, when the Mk3 model was phased out in 2007, had almost halved to 47,000 examples per year.
Ford Mondeo Mk4 (2007-2014)​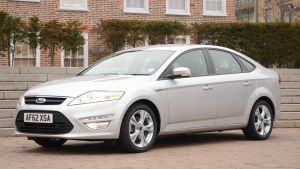 In 2007, the Mk4 was crowned the Auto Express family car of the year. We said: "There is no other family car on sale which has the strength in depth of the big Ford". It was praised for its excellent packaging and practicality, plus its brilliant chassis. This was not only a great family car, but great fun to drive, too.
Ford Mondeo Mk5 (2014-date)​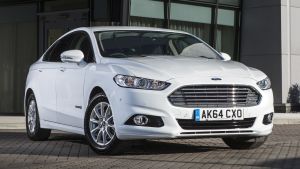 Today's Mondeo is not only overshadowed by other cars in its class, but also by other models in Ford showrooms. Customers' purchasing habits have changed and the traditional saloon has fallen out of favour with buyers, even if this was the first Mondeo to be offered with fuel-sipping hybrid powertrains.
Do you think a Ford Mondeo SUV would be a success? Let us know in the comments section below…
Continue reading...