BMW
has revealed its new rival for the Tesla Model 3 - the i4 - a fully-electric four-door saloon with sleeker styling than its combustion-engined alternative, the 3 Series. The i4 will be on sale in Europe this autumn.
Presented three months ahead of the brand's original timetable at BMW's annual financial results conference, sales boss Pieter Nota hailed the i4 as, "The heart of the BMW brand, now fully electric."
The finished car bears strong resemblance to last year's Concept i4, and while it has been revealed with blue tinted BMW i styling accents, BMW has also confirmed that there will be a sportier take on the i4 available too, with an M Performance version in the pipeline.
BMW will reveal all about the i4 in the coming weeks; we still don't have final technical specifications and the brand hasn't revealed the car's interior either.
However, the BMW has confirmed that the range-topping version will feature a 523bhp electric drivetrain with a maximum range of 367 miles, according to WLTP.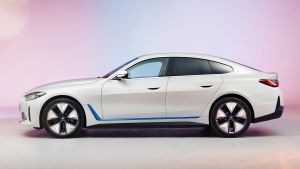 BMW i4 - side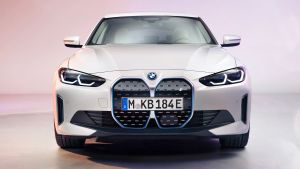 BMW i4 - full front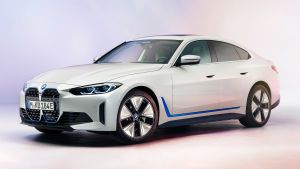 BMW i4 - front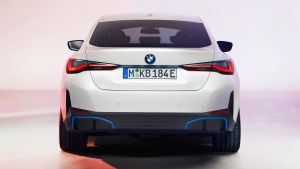 BMW i4 - full rear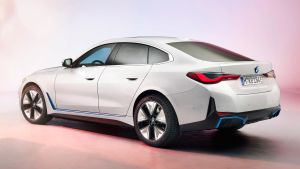 BMW i4 - rear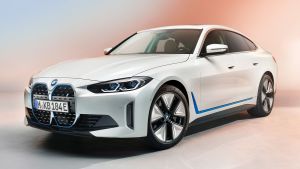 BMW i4 - front static
The i4 uses the firm's fifth-generation eDrive electric motors and will be powered by an 80kWh battery pack, mounted low in the car's chassis. BMW says the system (battery and motors together) has been designed to be lightweight, tipping the scales at 550kg, allowing the i4 to sprint from 0-62mph in around four seconds and reach a top speed of "more than 124mph."
The i4's electric platform also features BMW's latest charging tech, which, like the Audi e-tron, can support rapid charging at up to 150kW. Using this system, the i4 can recover an 80 per cent charge from empty in around 35 minutes – which equates to 62 miles of range added in six minutes.
Robert Irlinger, head of BMW's i division, gave Auto Express an early preview of the planned battery tech for the i4 at the 2019 Frankfurt Motor Show and told us that BMW had "asked the customers; it seems to be that the starting point for i3 in the early days was okay. But it seems that now, 300km (186 miles) is the minimum that you can offer to have an accepted range for customers."
Irlinger continued: "Then there's competition - Tesla, Audi and Mercedes are doing 400km (250 miles) in
WLTP
. So it seems to be again beyond 300km - up to 600km (375 miles) or 700km (435 miles). But if you look at the numbers we've already spoken about, the iX3 will be beyond 400km and the i4 will be around 600km."
Irlinger also admitted that BMW could offer the i4 with a choice of battery capacities at different price points. "It could be that different ranges are a good solution," he said. "If it's true that 300km is enough for some customers, then it could be wise to do a 300km version and a 600km version.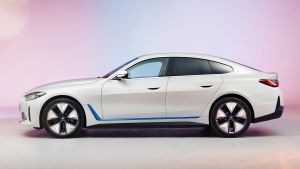 BMW i4 - side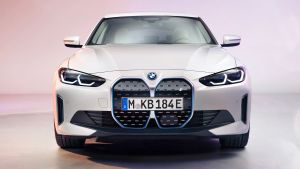 BMW i4 - full front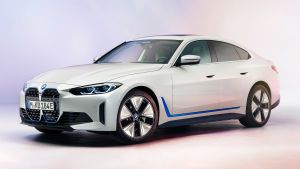 BMW i4 - front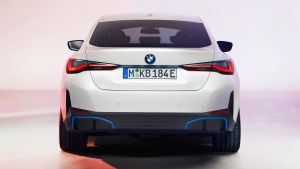 BMW i4 - full rear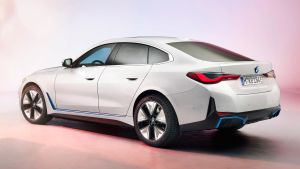 BMW i4 - rear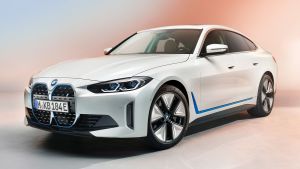 BMW i4 - front static
"We'll have to look at demand, of course, because up to now, what we've found is that the customers tend to always buy the bigger battery anyway. But if you live in a city and do most miles there, and you have your own charging point or good infrastructure nearby, then 300km at a cheaper price could be fine."
BMW hopes the new i4 will push its range of electric vehicles towards the mainstream market, following on from the iX3 electric SUV. As such, the EV's styling has been pared-back compared with all-electric BMW concepts of late, adopting more conventional BMW design details.
Up to now, BMW's standalone i models have been very distinct from anything else in the firm's line up, helped by their unique construction and unusual styling features. For the i4, BMW has kept the enlarged connected kidney grille and narrow headlights seen in the new iX SUV (and the new M3 and M4 performance models), but has incorporated some of the brand's more recent design elements into a conventional four-door coupe-like body.
To keep costs low and volume-production attainable for the i4, it will be based on BMW's latest CLAR platform, which is a modular architecture designed to underpin everything from the 3 Series up to the 7 Series – and to accommodate petrol, diesel, plug-in hybrid and pure-electric powertrains.
What does the new BMW i4 have to beat? These are the best electric cars on sale right now...
Continue reading...