You can upload from your computer on this forum, without using photobucket etc.., it stores it in your online storage space on here, we have plenty of room.
Click on the 'Insert Image' button (just to the right of the links and to the left of insert video)
This following window will popup. Select the tab 'From Computer'.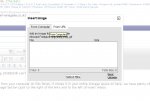 Click on Select Files, and choose the files you want to upload. Current Limit is 5 images per post. Once Selected, you will see the upload button.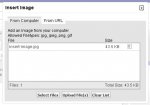 Click on Upload files(s) and the files to be put onto the website.
You will see the image inserted into your forum post. Although it may be small. Double left click on the image and it will bring up a config window for the image.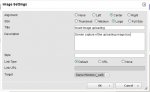 You have alignment radio buttons. This one above is set to center. If you have Left, then the image sits on the left, and your text you type will be to the right of it. Generally if you want it to sit on the left and type underneath, you set this to None.
Next, the size, by default it does a thumbnail, and generally for photos you may just want Medium, as a user can click on the image to view it larger anyway. The image above it currently set to Large due to it being a small image and the amount of pixels in it shouldn't exceed people screen widths.
Title and Description are optional, but its always nice to try and put in some text. As there is a change when people are searching for similar words in google, they could end up viewing this thread. Its also handy if people want to know what it is a picture of, maybe a car that people may not recognise.
Anyway, once done, click on OK.
Hope this help's. any problems, just let me know.