There are two payments methods from Ethermine.org.
Since Feb/March I have been doing Ethereum Mainnet up until a ouple of weeks ago, then tried the other method. I wan't keen on hanging, but with rising gas fees I found when being paid out 0.25ETH, the fee was 0.00155 ETH. The value of ETH is around £2.6k right now, so thats £4 in charges.These charges vary from payouts, some were a little higher.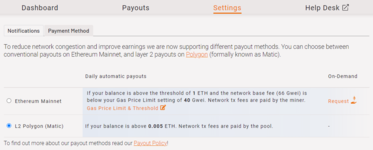 So how to set it up via Polygon network.
Well my main aim is to get fund into Coinbase, this is the place where i can extract money out into the real world. These following steps may be slightly different depending on the exchange you need to get it in to.
How to liquidate your mining rewards on polygon:
(to send to a Polygon supporting Exchange) &
(to send to any Wallet or Exchange that supports TRC-20/XLM)
So basically set up Metamask in your broswer, get a WETH (wrapped ETH) wallet address.
Mine into that WETH wallet you will get daily payouts if you make more than 0.005ETH a day.
Use quick swap to convert that WETH into USDT
Use MEXC.com account to get your USDT Matic address.
Using https://wallet.matic.network/ you can transfet the USDT to the Mex USDT address
Use MEXC to convert the USDT to XLM
Transfer XLM to your Coinbase XLM address
Convert XLM to your ETH in coinbase
I'll get some screen shots of the process. Yeah it may sound long winded. I transfered around 0.01ETH and it was around 10p of fees even after all those transactions.
Last edited: