The UK van market is a prime category for the switch to electric vehicles. There are more electric vans for sale than ever, with most commercial vehicle manufacturers now offering electric options for business users to buy or lease. Pioneers such as
Renault
and
Nissan
have been joined by established marques such as
Mercedes
,
Volkswagen
, Groupe PSA, while new ventures from the likes of Maxxus are also aiming to offer van buyers the option of zero-emissions work vehicles.
There are pure electric vans, while plug-in hybrid models from
Ford
, LEVC and
Mitsubishi
offer a low-emissions alternative for buyers who need more driving range than an electric commercial vehicle can offer.
Businesses are always looking for ways to reduce overheads, and while the initial cost of an electric van is high when compared to an equivalent diesel van, there are major savings to be made in everyday running costs. As a result, most electric van makers are keen to focus on the total cost of ownership (TCO) to help focus on the benefits of electrification.
For the moment, the main focus of most electric vans is the so-called 'last mile' delivery sector, because they still don't have quite the same driving range as a diesel van. Last- mile deliveries have seen an explosion in recent months because more people have been shopping from home, and businesses need a courier to deliver orders. An electric van is a suitable fit for this kind of job because it often entails multiple stops on short, urban routes, sometimes seeing the van enter low or zero-emissions zones. If it's an electric van, then you don't need to worry about where you're driving.
On this page you'll find the positives and negatives of running an electric van, including factors you may not have considered, so you can make the decision whether an electric van is right for you.
Battery range
The biggest deciding factor on whether an electric van is right for you will be battery range. If an electric van can't cover the miles you do in a day on a single charge, then it's unlikely to be for you. The majority of electric vans have a quoted range in the region of 90-120 miles, and while some vans will do that distance, cold weather can see range drop to as little as 50 miles on some vans. Manufacturers have conducted studies into van use as part of their electric van development, with some reporting that the average van driver covers about 70 miles per day, so in theory these electric vans should have range to spare.
Our best advice is to keep a note of the number of miles you do in a day. If it's less than 100 miles, then you might want to consider an electric van. Many electric vans can be ordered with the facility to pre-heat the cabin while it's still plugged in, which saves the battery charge for driving. Extras such as heated seats can reduce the demands put upon the battery when on the move, too.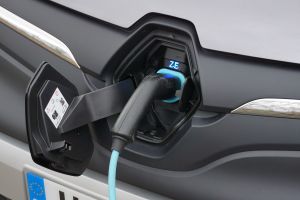 Of course, long-distance travel is out of the question unless you know there are going to be charging facilities when you get to your destination, and if you have enough time in your schedule to factor in the time it takes to recharge your van. However, there are alternatives to be had here. Ford offers its Transit Custom as a plug-in hybrid that has 35 miles of EV range, but can cover 300 miles when you factor in the petrol engine. And UK firm LEVC has introduced its VN5 range-extending van, which is based on the TX taxi. This has a bigger battery for a longer EV range, but the engine is a generator that can supply power to the electric motor when the battery is flat. And for something slightly left-field, Mitsubishi offers its Outlander PHEV SUV as a two-seat commercial vehicle.
Charging
The other big factor in buying an electric van is whether you have the ability to charge it up. The ideal situation would be to have a parking spot with access to a charging point, whether it's in a garage or an off-street parking space near an electricity supply.
The best way to charge a van is by using a wall box, because this delivers a faster charge than if you plug into a conventional domestic plug socket – some vans don't even offer the latter as an option, but you will be offered a wallbox installation when you buy the van. If you leave your van parked up overnight, you can plug it in and have a fully charged van ready to go in the morning - on the most advanced electric vans you can also set the cabin temperature for the start of the day, so battery energy is saved for driving.
Public rapid charging points are on the rise in the UK, although not many vans can take advantage of this. The charging speed of your van will be limited to the type of charger that's fitted to it, and if it's a low-capacity system, then charging from a high-voltage supply is out of the question. Still, many manufacturers are installing fast chargers at locations such as dealerships, motorway service stations and some commercial sites (such as Ikea stores across the country and some supermarkets). With the right charging system in your van, these can deliver up to an 80 per cent charge in half an hour.
If you're going to be relying on a charging point at home or on business premises, then these can recharge the batteries in 4-8 hours, depending on how powerful the wallbox is. In the worst case, a fully flat battery can be recharged from a conventional three-pin plug socket in 12 hours. If you do take the plunge, you'll soon get in the habit of plugging your van in overnight to keep the battery topped up, just like a mobile phone or power tools.
Load carrying
Adding weight to any van has a negative effect on how much of a payload it can carry, whether it's powered by a diesel engine or an electric motor. A heavy battery does have a negative impact on payload weights, but with technology stil progressing, electric van payloads are slowly edging closer to their diesel counterparts.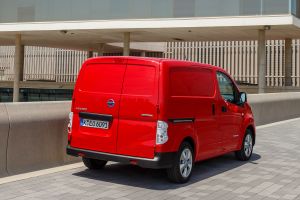 Most electric vans offer a cargo volume that matches the diesel version, because the compact electric motor and gearbox goes where the engine would normally sit, while the batteries tend to go in the void left by a manual gearbox, as well as under the cargo area. The reason we've seen so many large electric vans launched in recent years is that manufacturers want to offer maximum cargo volume for last-mile deliveries, which are usually made up of numerous small parcels that don't weigh very much.
The big minus point for an electric van is the reduction in range that the extra weight will cause. You'll need more power to get moving, so the van's range will be shortened, once again making the case that an electric van is better suited to short trips rather than longer drives.
Price
One area where electric vans are competitive is on list price, and that's because the Government's Plug-in Van Grant is bigger than it is for electric cars. You can get £8,000 off the list price of an electric or hybrid van that is able to travel at least 10 miles on zero emissions electric power alone. That means the Nisan e-NV200 starts from around £15,000, which is about £400 less than the NV200 with a 1.5 dCi diesel.
Unfortunately, Government incentives to install EV charging points at home were withdrawn in 2016, but electric van makers do have contact details of companies that are willing to fit charge points for business users at competitive rates.
Running costs
Another factor to consider is the overall running costs of an electric van. While you'll never be at the mercy of fuel station prices, you won't be accessing free energy. If you're charging a van overnight, then the cost is estimated to be around £1.50 to fully charge a flat battery. As a rough estimate, you'd need to spend around £15 on diesel to cover 100 miles, so the savings an electric van can deliver are plain to see. If you're registered as a company, you should also be able to write off some of your household energy bills against VAT, because the energy used to recharge your electric van is a legitimate business cost.
Servicing should be relatively cheap for an electric van. Since there is no engine to maintain, there are fewer parts to inspect and replace on an annual basis. Manufacturers offer maintenance plans to suit the number of miles you cover in a year, too.
Recent developments in terms of zero or low-emissions zones appearing in city centres mean that electric vans are seeing a boost in desirability. Where once depreciation was heavy when compared to a diesel van, it's becoming less of an issue for buyers needing a non-polluting way of making deliveries.
Get the latest electric car news, reviews and analysis on DrivingElectric.com
Continue reading...