Pick-up trucks are a popular buy for business users that need a practical vehicle that doubles as family transport at the weekends. They can also be cost-effective thanks to attractive tax rates for company car users and the 'commercial vehicle' classification. What, though, is the best pick-up truck for sale in the UK today? Here we round up the runners and riders in an expanding class that is closely fought by a variety of accomplished opponents.
The Toyota Hilux and Mitsubishi L200 are two trucks that have been solid performers in this category for years, while the Ford Ranger, Nissan Navara are also popular choices among commercial fleets and private buyers. Volkswagen's Amarok introduced a bit of premium choice into the segment when it was introduced, as did the (now discontinued) Mercedes X-Class. Cheaper options like the Isuzu D-Max and SsangYong Musso offer utilitarian functionality along with an SUV image.
Why are pick-up trucks popular in the UK?​
We're used to seeing pick-up trucks on UK roads, and they are popular here for one chief reason: tax. Double cab pick-ups that can carry more than one tonne of payload in the bed are classified as commercial vehicles, and as a result they qualify for a fixed rate of Benefit In Kind tax.
And that's not the only tax benefit of a pick-up truck. As of 2019, Vehicle Excise Duty, or road tax for a light goods vehicle not weighing more than 3.5 tonnes, is set at £265, and this rate applies to those pick-up trucks that cost more than £40,000. So if you choose a pick-up over an SUV, you could save around £200 on road tax for the first five years you pay it, as the SUV would be subject to the additional £325 (as of 2020) that cars over £40,000 face.
Of course, there's also the image that pick-up trucks project that appeals to buyers. With SUVs becoming more common, the pick-up has a rugged, workhorse attraction, and in some ways this echoes the popularity of pick-up trucks in the US, although of the pick-ups sold in the UK, only the
Ford Ranger
is also sold in the States.
The best pick-up trucks in the UK​
But which pick-up trucks for sale in the UK are the best? Here we list all the trucks currently in dealers, with seven models available to choose from.
Ford Ranger​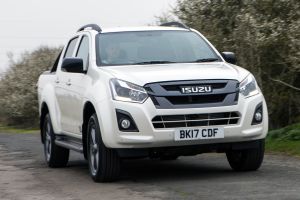 Isuzu D-Max Blade pick-up 2017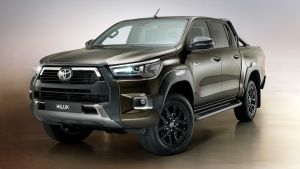 image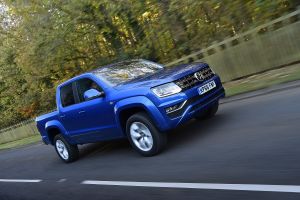 image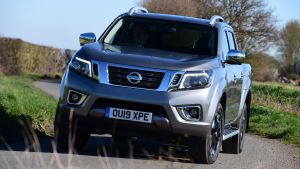 image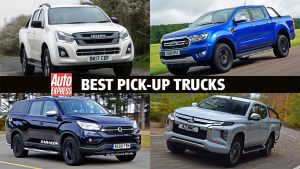 image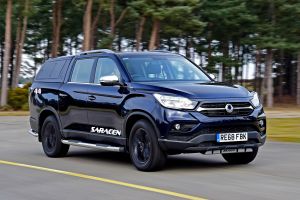 SsangYong Musso - front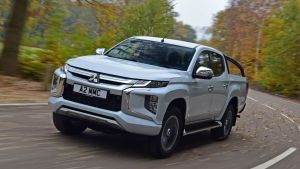 image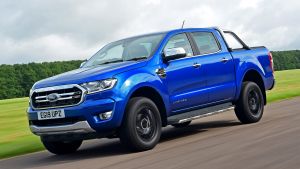 image
Past versions of the Ford Ranger were solely focused on practicality and usability, but the current version has gone some way to ditching this perception and there is now a sense of style to go with the workhorse image. It's closer than ever to an SUV for mechanical sophistication, but it's built to last, has excellent off-road ability and can tow 3,500kg in some guises.
In a bid to keep rivals at bay, Ford has modernised the styling inside and out, adding a clutch of the latest technology and safety features. Engineers also moved to improve the driving experience with engine and suspension upgrades.
The Ranger's 2.0-litre EcoBlue engine comes in three power outputs: 128bhp, 168bhp and 210bhp, with a six-speed manual gearbox as standard for all versions, except the high-spec Thunder and Raptor variants, which use a ten-speed auto transmission.
Ford builds Regular Cab, Super Cab and Double Cab versions of the Ranger, with the most popular Double Cab bodystyle offering four doors and five seats to the Super Cab's suicide back doors and occasional rear seating. You can seat five at a squeeze too, with the Double Cab having just enough legroom for a 6ft adult to sit behind a 6ft driver. Headroom is OK in the back, so longer journeys with four on board are not out of the question.
The Ranger is also extremely capable in heavy-duty use on the road with the Double Cab offering a 1,199kg payload and a class-leading 3,500kg maximum towing weight. Ford's added a load of advanced safety equipment too, including a stability control system with trailer sway control to keep everything in check.
We're so impressed with the current Ford Ranger that we awarded it the
Pick-up of the Year
in 2019 and 2020.
Mitsubishi L200​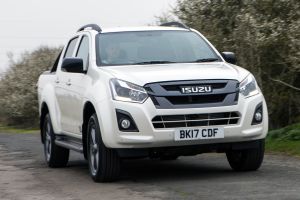 Isuzu D-Max Blade pick-up 2017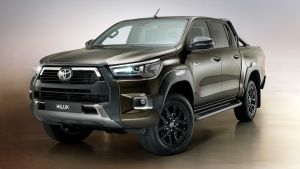 image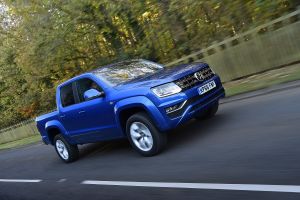 image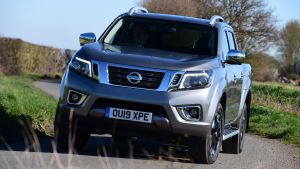 image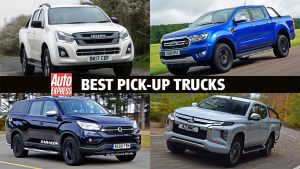 image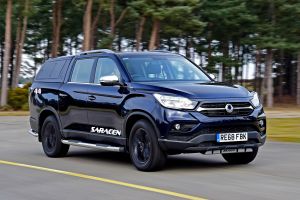 SsangYong Musso - front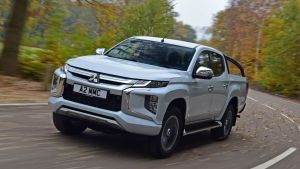 image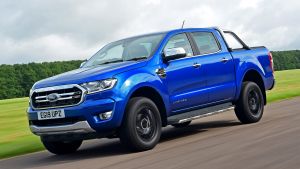 image
The
Mitsubishi L200
is now in its sixth generation and it remains one of the best pick-up trucks on sale in the UK.
It's one of Mitsubishi's best-selling vehicles, and it's not hard to see why when pricing starts at around £22,000 for the utilitarian Club Cab model - a popular choice for those looking for a rugged, commercial vehicle.
For the top-spec Double Cab Barbarian X, you'll be looking at paying over £32,000, but you get five full-size seats, a punchy, yet frugal 148bhp 2.3-litre diesel and a 360-degree parking camera as standard - which will come in handy for those with a full load-bay, blocking visibility.
The L200 is available with a manual or automatic - both with six-speeds. Economy drops off slightly if you choose the automatic - the Barbarian Double Cab Diesel 4WD returns 32.1mpg with a manual and 29.1mpg with an automatic gearbox.
Load space and practicality is what most prospective pick-up owners look for and the L200 performs well in this respect. The double-cab truck's load bay offers 1,470mm square with a depth of 475mm and there are plenty of lashing points and grooves to keep your goods stable.
The L200's off-road ability is impressive, but the on-road performance is what matters for most buyers. The Ford Ranger is more confidence-inspiring in its handling but the L200 is still comfortable to ride in. The manual gearbox doesn't have the smoothest shift action so those looking for the best refinement should opt for the automatic.
Toyota Hilux​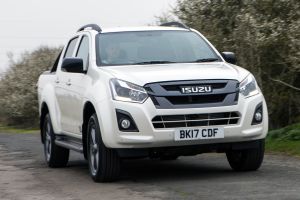 Isuzu D-Max Blade pick-up 2017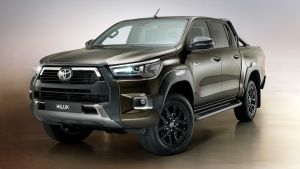 image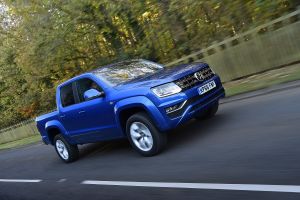 image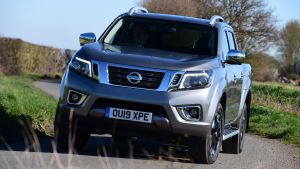 image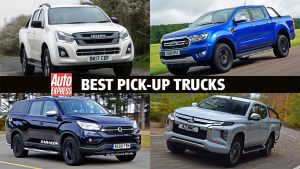 image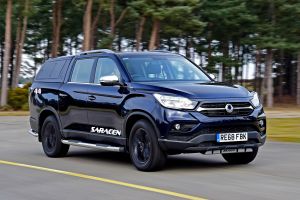 SsangYong Musso - front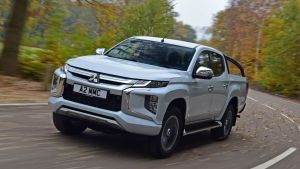 image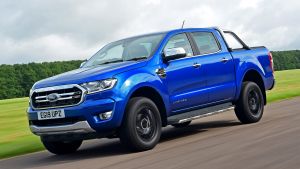 image
Over 18 million
Toyota Hiluxes
have been built since 1968, making it one of the best-selling trucks in the world. It's an icon of the pick-up world, with owners in some of the most inhospitable places on earth relying on its durability.
The latest HiLux is bigger in every dimension than before, benefiting that all-important load bay, which is a full 130mm wider than the old Hilux's. Power comes from a 2.8-litre diesel engine with a healthy torque figure of 420Nm, while it can also tow up to 3,500kg.
Inside, it's a huge improvement over the last model. Gone are the flimsy plastics and dated switchgear, replaced by a dashboard which looks and feels like it's from one of Toyota's passenger cars.
There are plenty of hard plastics to remind you you're in a pick-up, but it's now on par with the car-like Nissan Navara for fit and finish. The Invincible-spec model has a decent kit tally, too, with a eight-inch infotainment display with DAB and Bluetooth, cruise control, climate control and keyless start, while the Invincible X gets even more kit and a unique looking front end, too.
The Hilux is surprisingly good to drive. There's lots of tyre squeal but the ride is comfortable, the steering is accurate and body control isn't too bad considering the elevated stance. As with any pick-up, if the load bay is empty, the ride can be a little bouncy and there's flex detectable in the chassis.
Nissan Navara​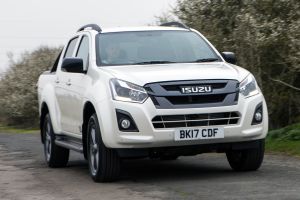 Isuzu D-Max Blade pick-up 2017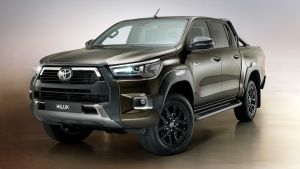 image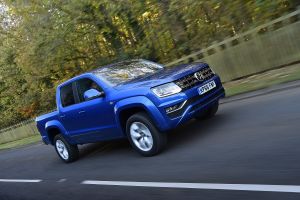 image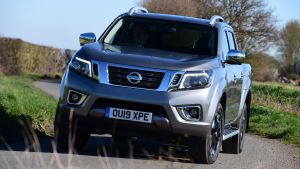 image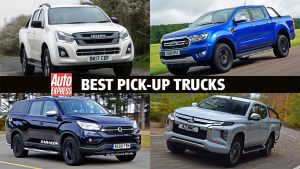 image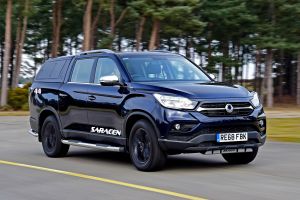 SsangYong Musso - front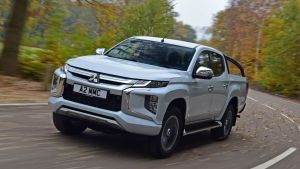 image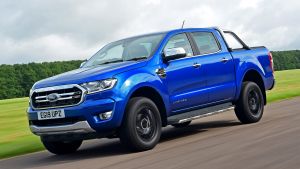 image
The
Navara
is one of the best double-cab 4x4 pick-ups on the market. It's not the cheapest, but the low-ratio gearbox helps provide a superb off-road experience and the steering is responsive, making cornering composed and the truck easy to control at speed.
Under the bonnet, the 2.3-litre diesel is smooth and refined, with two power outputs available - 161bhp or 187bhp. All models come with Nissan's autonomous braking technology, which helps the Navara achieve low insurance groupings, while higher-spec models boast a touchscreen sat-nav.
The interior of the Nissan Navara has a lot in common with those of the latest Nissan passenger cars so materials quality and the level of equipment provided are first class. The wheel adjusts for rake only, but the powered leather driver's seat – if a little short in the squab - provides a good range of movement. There's a great view out over the imposing bonnet, and Tekna models are comfortable for long hours in the saddle. There's room in the back for full-size grown-ups too, with a comfortable rake for the rear bench – also leather trimmed in this range-topping model – plus electric windows and ISOFIX child seat mounts.
Nissan reckons the Navara pushes the boundaries closer to a 'crossover' SUV driving experience than anything else in its sector. But while the advanced multi-link rear suspension does smooth the ride somewhat, it's not quite the revolution that Nissan hopes it to be, although there's less rear end 'bounce'.
Volkswagen Amarok​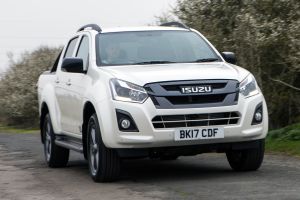 Isuzu D-Max Blade pick-up 2017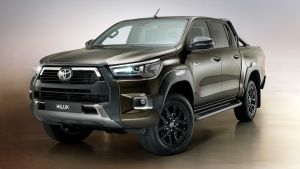 image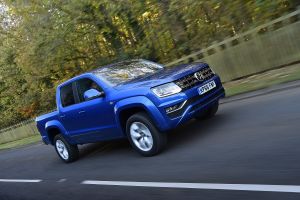 image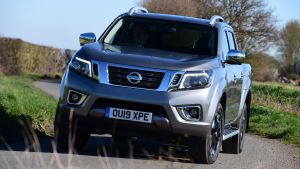 image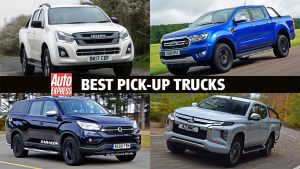 image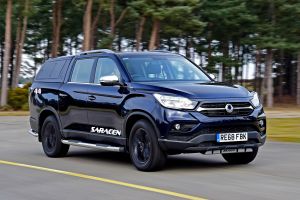 SsangYong Musso - front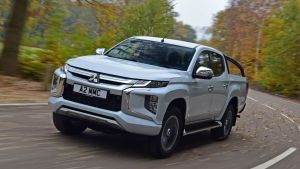 image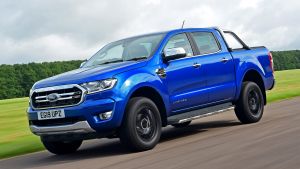 image
The
Volkswagen Amarok
is only available as a double-cab in the UK and is relatively expensive, but it delivers on the claim that it feels 'car-like' from behind the wheel. Thanks to a great combination of rugged practicality and a quality feel, it remains one of the most desirable pick-ups on the market.
The latest version is powered by a punchy 3.0 V6 TDI engine that replaces the old 2.0-litre units. The most powerful 254bhp version has plenty of punch for overtaking and a stump-pulling 580Nm of torque from 1,400rpm for towing or tackling serious 45-degree off-road inclines. Economy of 34mpg economy makes it more expensive to run than 4-cylinder rivals though.
On the road it's easy to forget that the Amarok isn't an easy-driving SUV, although a hint of rear-end bounce that typifies the pick-up genre is evident. The hefty ladder-framed Amarok can't truly match the poise, dynamism or comfort of contemporary road-focused SUVs, but with V6 muscle many more drivers should find the vehicle rewarding enough for that not to matter.
The interior fit and finish is excellent, including a handsome new fascia design that looks and feels well screwed together. The front seats offer loads of support, and with full steering wheel adjustment, the driving position is more car-like and comfortable than you might expect from a pick-up.
Isuzu D-Max​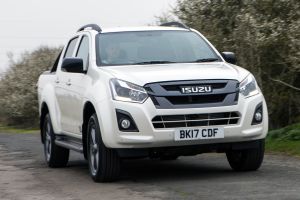 Isuzu D-Max Blade pick-up 2017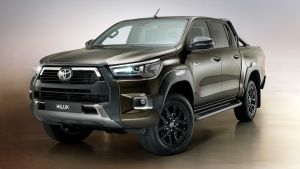 image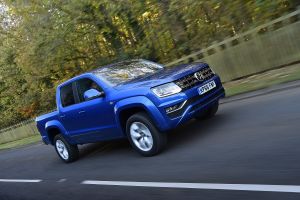 image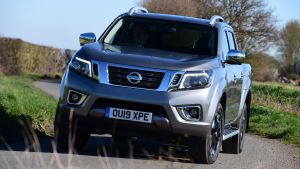 image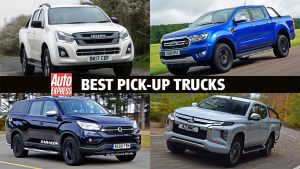 image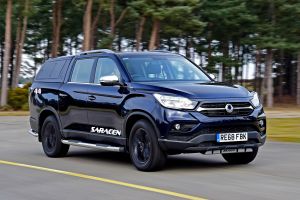 SsangYong Musso - front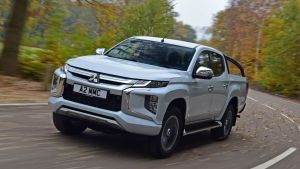 image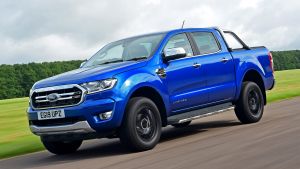 image
Constant evolution means the
Isuzu D-Max
is still a top pick-up choice on the market, even though there are plenty of newer rivals out there. It's still a solid choice though, offering low running costs, a five-year warranty and a 3.5-tonne towing capacity, and the broad range of models means there's a truck to suit all sorts of jobs.
All models use the same 1.9-litre twin-turbo diesel engine, which develops 360Nm of torque, but is more efficient than the 2.5-litre diesel it replaced in 2017.
The double cab gets a load bay of 1,485mm by 1,530mm, but the payload capacity varies based on the model you choose - with the maximum being 1,161kg. The maximum towing weight is 3,500kg.
The top-spec Utah model also comes with electronic climate control, leather seats with electric adjustment, courtesy light delay, parking sensors and roof bars. The Arctic Trucks AT35 is also based on this spec, with few changes inside, but a dramatic external makeover, with 35-inch Nokian off-road tyres, flared wheelarches and a lofty ride height.
SsangYong Musso​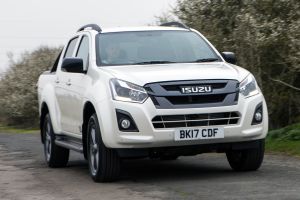 Isuzu D-Max Blade pick-up 2017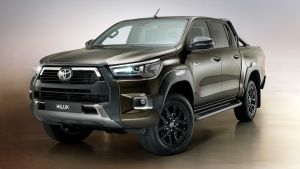 image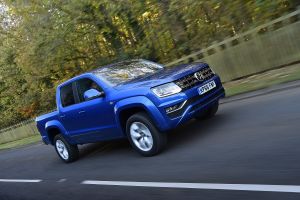 image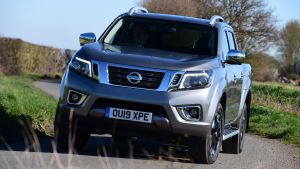 image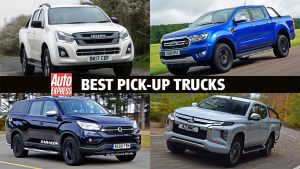 image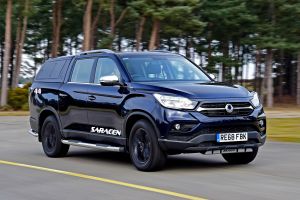 SsangYong Musso - front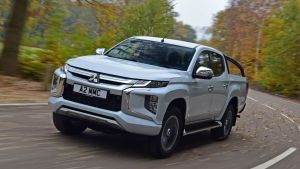 image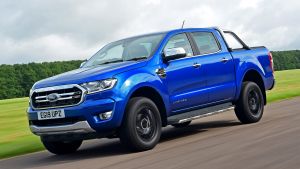 image
The
SsangYong Musso
includes a 2.2-litre diesel under the bonnet, and selectable four-wheel drive allows you to drive in 2WD mode to help save fuel. There are six-speed manual and auto gearboxes offered, too. The Musso's load bed isn't quite as large as those of some rivals, but it still meets the tax-friendly one-tonne payload limit.
SsangYong offers EX, Rebel, Saracen and Rhino trims, and all models are well equipped, featuring plenty of kit taken straight from the Rexton SUV. We'd go for a Rebel at least, because then you get kit such as
Apple CarPlay
and
Android Auto
, heated and cooled seats and a heated leather steering wheel.
If you need extra load space then you can opt for the long-wheelbase Musso Rhino. It has a load bed length of 1.61m and an overall length of 5.4m which, Ssangyong claims, makes it the biggest double cab pick-up with the biggest load bed on the market.
Read more of our best van recommendations...
Continue reading...