Skoda
is gearing up for the launch of the fourth-generation
Fabia
. This smokey teaser image is our first official look at the new supermini – and the finished car is set to be unveiled this Spring, where it'll provide fresh competition for the
Vauxhall Corsa
and
Toyota Yaris
. UK sales are expected to start in the summer, with prices starting from around £14,500.
As part of its teaser campaign,
Skoda
has confirmed that the new
Fabia
will be based on the
Volkswagen
Group's MQB A0 architecture. That's the same platform found under the
Scala
, while it also underpins superminis from sister brands SEAT and VW, so the new Fabia should be larger and more practical than its predecessor.
Skoda says the next-generation Fabia's boot will be 50 litres larger than the old car's, taking its maximum volume to 380 litres. Like the
Scala
, which is slightly larger than the VW
Golf
, the Fabia will be slightly larger than the
Polo
, with Skoda aiming to capture buyers who want the compact size of a supermini mixed with the practicality of a car from the class above.
The new underpinnings will also bring a major technology improvement, with Skoda adopting
Volkswagen
's latest MIB 3.0 infotainment system. Some versions of the Fabia will make do with a 6.5-inch display, but UK models will likely be offered a choice of either an eight-inch or 9.2-inch touchscreen.
Skoda is keen to stress the safety benefits of the new platform, claiming improvements to both active and passive safety systems. The platform performs better in crash tests than the Fabia's old PQ26 underpinnings, while autonomous emergency braking, lane-keep assist and an emergency call function should come fitted as standard.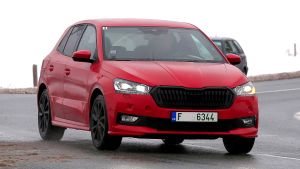 Skoda Fabia - cornering spy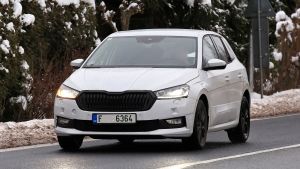 Skoda Fabia - front spy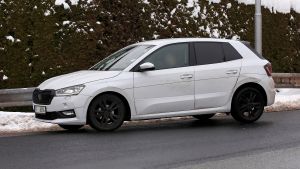 Skoda Fabia - side spy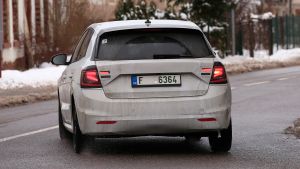 Skoda Fabia - rear spy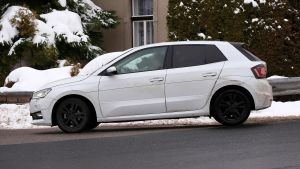 Skoda Fabia - side spy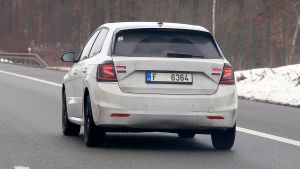 Skoda Fabia - corner spy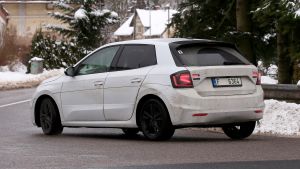 Skoda Fabia - rear spy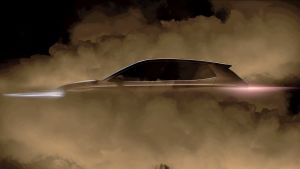 Skoda Fabia teaser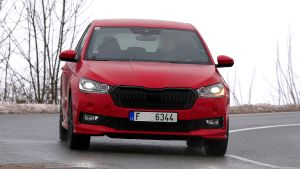 Skoda Fabia - front spy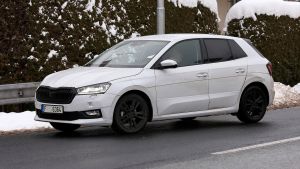 Skoda Fabia - front
Finally, Skoda has confirmed that the new Fabia will only be available with the Volkswagen Group's 'EVO' petrol engines. That means the old car's 1.2-litre TSI unit will be dropped in favour of a turbocharged 1.0-litre three-cylinder engine, with outputs of either 94bhp or 108bhp.
A lower-powered naturally aspirated version of this engine with 79bhp could also make an appearance.
Mild-hybrid tech could also potentially find its way onto the new Fabia in time. Engineers across the different Volkswagen Group brands have been working on cheaper 12V mild-hybrid systems that could be offered alongside its 48V configurations.
There are no plans for a plug-in hybrid model though, as the complexity, cost and compromises involved in packaging batteries into such a small car remain prohibitive.
While the outgoing Fabia is also available as an estate, it's unlikely that the new A0-based car will be offered in this more practical body style. Supermini-based estates don't traditionally sell in big numbers, while Skoda also offers the A0-based Scala for buyers that need this level of practicality but are on a tighter budget.
New Skoda Fabia: design and interior
Skoda's new teaser image suggests the next-generation Fabia will look very similar to the outgoing model. Its tailgate is a similar shape to the old car's, while its headlights share the same DRL signature. The Fabia's roofline also remains relatively high at the rear, as it still needs to accommodate two adults in the rear in relative comfort.
Our spy photographers have already snapped the new supermini undergoing testing. Its track and wheel arches are wider than the old car's (thanks to the new platform), while its radiator grille has grown in size, which should give the hatchback a more imposing stance.
Previous spy shots have also hinted that Skoda's sporty Monte Carlo trim level will make it into the new Fabia line-up. The red mule in our gallery features winglets on the front bumper, wider side skirts, a deeper rear diffuser and a larger tailgate spoiler. Production cars will also come with larger alloy wheels and sports seats.
Inside, the new Fabia should be one of the most spacious cars in its class, and by moving to the MQB A0 platform, buyers will benefit from improved soundproofing and noise isolation, making the supermini a more refined car on the move.
What does the new Skoda Fabia have to beat? Check out our run-down of
the best superminis on sale here
…
Continue reading...