Lamborghini
has issued the first teaser images of a new, track-only hypercar called SCV12. It'll make its official debut later this summer, sporting a highly tuned V12 engine, an aggressive aero package and a unique carbon fibre chassis.
As its name suggests, the Lamborghini SCV12 hypercar will be powered by a naturally aspirated V12 engine. Lamborghini says it will be the most powerful version of the powertrain the company has ever produced, boasting a maximum output of more than 820bhp.
To achieve such heady power figures without forced induction, the SCV12 is fitted with a ram-air scoop on its roof, which pushes extra air through the engine's intake manifold to increase performance. Also, unlike Lamborghini's tamer road-going hypercars, the SCV12 will send all of its power to the rear wheels via a six-speed sequential gearbox.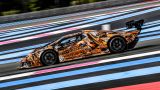 image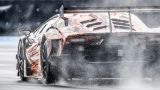 image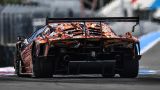 image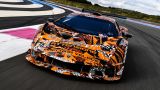 image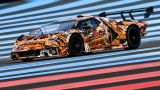 image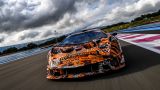 image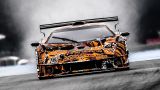 image
The SCV12's platform will be made entirely from carbon fibre, while its body will feature a host of aerodynamic appendages, including a braced front splitter, front and rear canards, finned side skirts, a deep rear diffuser and an enormous carbon fibre rear wing. In all, Lamborghini says the SCV12 will generate more downforce than a GT3 racer.
The SCV12's chassis setup is lifted directly from the world of motorsport. The six-speed sequential gearbox is used as a structural member within the hypercar's platform – and it supports a pushrod rear suspension system. Lamborghini says this setup reduces the car's kerb weight and improves weight distribution, by limiting the amount of metal in the car's rear subframe.
Buyers also get a set of enormous brake discs with six-piston calipers, specially developed slick Pirelli tyres and a unique set of staggered magnesium wheels, measuring 19 inches in diameter on the front axle and 20 inches on the rear.
Every buyer will also be offered the chance to participate in an advanced driver training programme, under the supervision of the five-time 24 Hours of Le Mans champion, Emanuele Pirro, as well as Lamborghini's Squadra Corse engineers.
What do you make of the new Lamborghini SCV12? Let us know in the comments section below…
Continue reading...