Ther buttons were worn on the keyfob. So brought an overlay that just clicks in. This was useless it kept falling off, even tried glue around the edges.
So the next thing to try was to buy a keyfob. I found a pair that looked the same.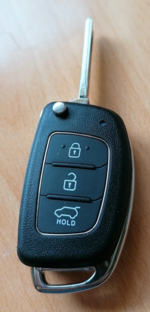 So all that was needed was to extract the PCB and key part from the old and fit to the new. This was a little fiddly expecially the spring and button bit, a lot to hold together. It was a good fit, and a screw to hold it in place. The original keyfob was glued together.
Tried unlocking and locking the car, it worked first time. Result.!
However at 5.15am this morning auntie tried starting the car, it did not start, so I got a phone call.
Fetched the old one out of the bin, was it the metal bit down the side some sort of RF imobiliser?. Looking in the old plastic, found sometihng that looked odd. Under a stuborn plastic cover I originally though was the LED difuser, was actually a no contact black chip. Managed to extract it from the old keyfob and insert it into the new.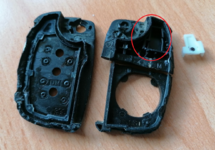 The car started fine then.
The simplest of jobs turned out to be an ordeal. An early start to the day, which usually isn't too bad, but our own dogs woke me up at 2am because they wanted to use the garden facilities.