There was a car that came to the Southsea cruise around 18 months go. A convertible firebird. We did have some discussion on it some time ago on what particular model it was.
Anyway it failed its MOT on emmisions. The guy only lives in Portchester, so he got my number from Kev with the mustang. I popped down there with my scanning software, he has a few codes like crank position error, engine misfire.
Running on tick over I could see the lamda sensors were switching, so they didn't appear to be at fault.
Ran a 'cylinder test', I can turn off each fuel injector. Cycles around turning #1 injector off, car felt lumpy, turned it back on and moved onto the next injector. Now #2 made no difference to the running of the car.
It appears #2 isn't working right, and with popping occationally coming from the exhaust on tick over then the injector is probably working fine, but not igniting until it gets heat in the exhaust. So its a spark issue.
Coil packs dont tend to go. I could just get my hand in there to swap HT leads from #1 to #2. Made no difference, so perhaps the plug.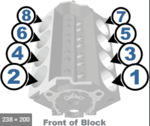 The engine bay is all original, so getting to #1 plug was a pain, good job it wasn't #8. I have so much room in my engine bay its a 15mins job to change all plugs, I think it would take 3 hours with tiny hands on this one.
He has a garage that does the work for him so at least there is some come back if something dosn't go right, think they have a slot in September. The car has 50k miles one it, so could even be original plugs.
I guess a lot of garages will be busy now as MOT extentions are no longer in play. So now there is double the amount of people trying to get an MOT,.